CH. AOTEAROA KUI'S KOTIRO
At 13 months , First 12 to 15 month bitches Sweepstakes IWCA National Specialty May 18 2005
Born 12 December 2003
Sire:- Ch. Aotearoa Manuka 2nd Dam:- Ch. Aotearoa Mangu Kui
Kotiro was Kui's last litter, all of it! Kui's previous litters had been small, but her son Bruce, Aotearoa the Rising of Tokelry, has many of Kui's virtues that I cherish. He has already ensured from the 2 fine litters he has sired that these qualities will continue in my line. Still, I did so much want a girl from Kui. This precious little creature seemed like a miracle. Her name "Kotiro" means "girl" in Maori. " Kui's girl" was my most wonderful Christmas present ever! There was a special bond between Kui and her only daughter, so I let them stay together well past normal weaning time. I knew I HAD to keep her, but was worried this might be letting my heart rule my head. I couldn't help wondering what I would do if she did not develop into the quality I hoped for.
I need not have worried, her confirmation lived up to, even exceeded my hopes and expectations. She is a natural "Show Girl", such a delight! Kotiro's first show was the IWANE First Independent Specialty in Warwick RI, July 25 & 26 , 2004 where she placed in her large 6 to 9 month puppy class and also won the Best Head class under breeder/judge Elizabeth Murphy, "Carrokeel", Ireland.
In 2005 at the IWCA National Specialty in Gray Summit MO she won her 15 to 18 month Sweepstakes class of 18 entries under breeder/judge Donna Pitt.
During the summer of 2005 she finished easily taking Best of Breed over Champion males. She has also helped her sire Manuka to some exciting Stud Dog Class First Place wins at the IWANE and IWADV Specialties.
I am now eagerly awaiting her first litter due February 04, 2006 sired by Ch. Aotearoa Kia Ora, Bruce's son, who has also had a splendid year in the show ring in Canada and the USA in 2005. With Kui's influence on both sides of the family these puppies should be very exciting indeed.
Barbara Daley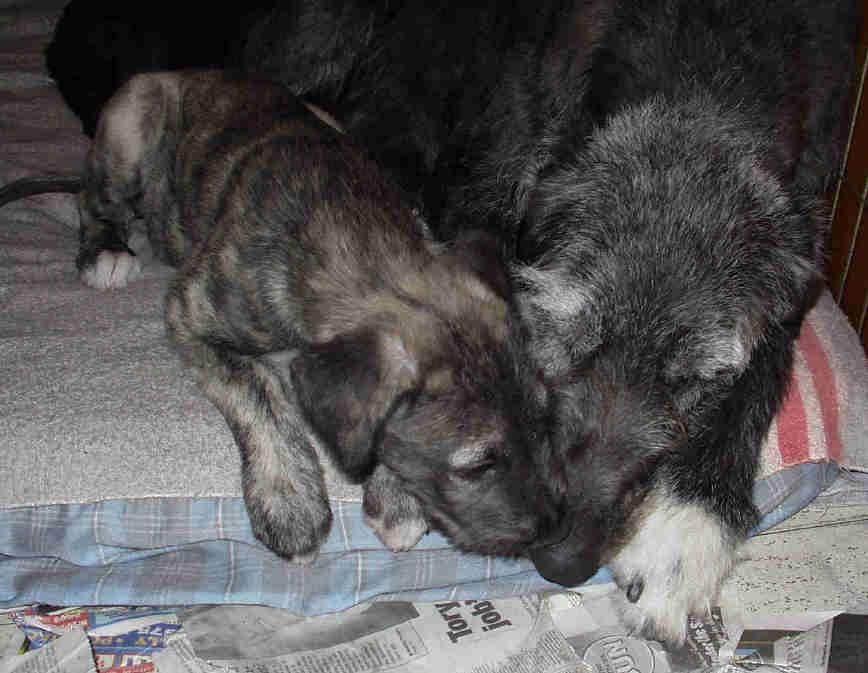 Kotiro," Kui's girl", 2 days old Kotiro with Kui, 6 weeks old
Kotiro at 7 months IWANE Specialty 2004