Born 9 December, 1993 Pictured at 16 months
Sire:- Can.Ch. Blackwing's Oisin Dam:- Can.Ch. Aotearoa Moana
Breeder/Owner:- Barbara Daley
Mingo was my keeper from Moana's second litter of 8, 6 boys and 2 girls. Although he was not the biggest of the males, he was my favourite from birth. There was just something about him I could not resist. He finished his Championship at 16 months of age with several nice wins from the puppy classes. This while competing at almost every show with his "big brother" Guinness belonging to John and Jocelyn Ferguson. They took turns, sharing the points, finishing both on the same weekend at the Hochelaga shows in Montreal, Mingo on the Saturday at the IWCC Booster, and Guinness on the Sunday at the QUEON Lure Coursing Association Sighthound Specialty.
He was not the most prolific sire I have owned, but he was without a doubt the most enthusiastic! Quite a challenge to manage, but well worth the effort, as he sired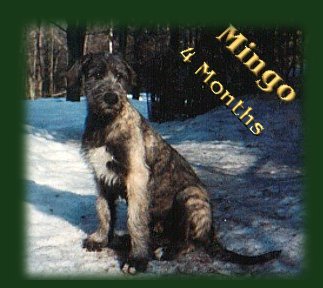 some wonderful progeny who have had great influence on my hounds, and those of others as well. One of the most notable of his sons was Aotearoa Rivermead Rory, a striking light red brindle, with a fabulous outgoing personality, litter brother to Candy Rubenick's Can.Ch.Aotearoa Mistress of Tirshan. I co-owned Rory with his breeder, but she was too busy showing her horses to fit in dog shows, so that was left to me. I tried!!!!! but of course he had to come to me a few days beforehand for grooming, then stay the weekend of the shows. Mingo hated his son Rory with a passion, especially when there was a girl in season, so after a few nice wins, and 2 fine litters Rory stayed at home with his co-owner, his dam Katie, and her sister and never did finish his Championship.
However Mingo's litter of 11 from Guylaine Gagnon's lovely Hemmingford Saga, daughter of one of my best males Aotearoa Akepiro ( a Hoki look alike, an elegant mahogany red brindle, with white socks) produced 2 exceptional hounds who finished easily. Others could have done so too if their owners were so inclined, but I never push owners to show if they don't want to.In this litter were Can.Ch. Maude D'Hemmingford, #1 IW in Canada in 1999, and her brother Can.Ch. Sean Patrick D'Hemmingford, both of whom made a fine showing as veterans at 7 & 1/2 years of age at our first IWCC Quebec Regional Specialty 31 May 2003, a tribute to their healthy constitutions as well as their beautiful confirmation.