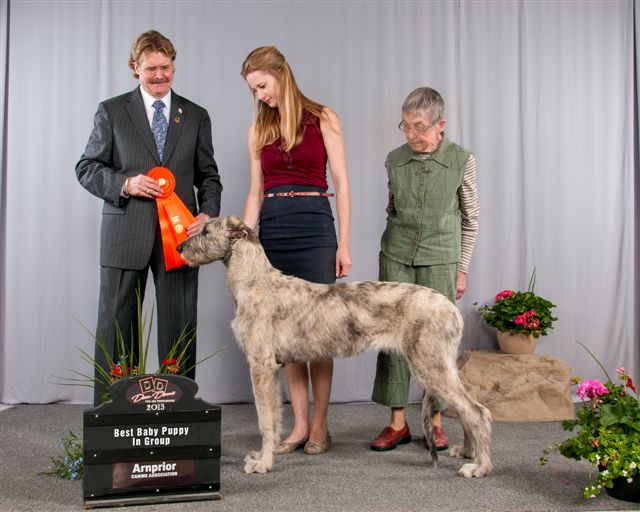 GCH. AOTEAROA MANA TIKA
Born 15 November, 2012
Sire: BISS Multi BIS Can. & Am. CH. Aotearoa Lee Ridge Tote Salt) Dam: Aotearoa Whakamaru (Sibyl)
Breeder/Owner: Barbara N Daley
Tika was my "pick" of her litter from birth. She reminded me so much of her beautiful grand dam Monster Girl, CH. Aotearoa Te Ngarara Huarau, so of course she had to stay too with her brother Tama, the only male in the litter. Her name "Mana Tika" means "Divine Justice" in Maori, and she has delivered that in spades in her first year in the show ring, with hopefully more to comein the future. I still co–own 2 of their sisters CH. Aotearoa Royeljoker Karma's Zen and CH. Aotearoa Royeljoker Sand Storm with Jaunita MacLeod, both finishing their Championships in their first year also. This was quite a litter!
At first Tika was very much in the shadow of her precocious brother. Nobody seemed very interested in her, all eyes , wins and praise were for Tama. She felt the lack of attention too, and showed it by grabbing the stuffed toys he won for Best Baby Puppy as he came out of the ring, and not wanting to give them back! Then gradually she started to beat him more often as time went by, not only taking Best Puppy in Breed over her brother, but going to on to 3 Best Puppy in Group wins to finish the year as #4 Irish Wolfhound puppy in Canada for 2013. Tika finished her Championship from the puppy classes with Best of Breed wins over adults also, including a Multi Best in Show winning Champion Special, something her brother has not done...yet! Tika has been beautifully handled mostly by Savannah Vince, who she ADORES, and occasionally by Christine Pollen.
2013 has been an outstanding year for these exciting littermates and I look forward with great anticipation to their future.
Tika & Savannah TIKO BOOSTER 2013
Tika BOB & BPIG Cornwall 2013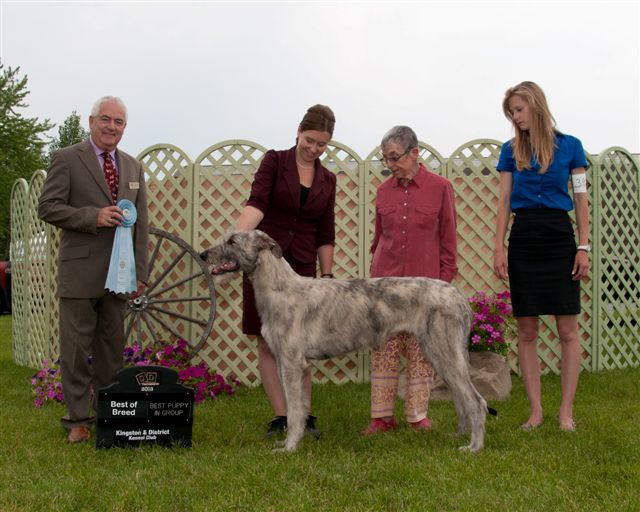 Tika BOB & BPIG Kingston 2013
Tika IWCC QC 2013 move 1
Tika move IWCC Qc 2013_3
Tika move OKC Richmond 2013
Tika SD & G 2013