CAN. CH. AOTEAROA MANUKA 2nd
Sire: Can.Ch. Aotearoa ManguMumu Dam: Can.Ch. Aotearoa Hihi Kata (Denise)

bred, owned, & handled by Barbara Daley
Manuka is a prolific and attractive shrub that grows wild in my homeland New Zealand. It is also called the tea tree, and is the source of the famous tea tree oil. He was my keeper from Denise's largest litter of 11, 5 boys and 6 girls. When I applied to register him I forgot I had used the name once before, so his CKC registration certificate came back as Aotearoa Manuka 2nd. The first Aotearoa Manuka was a beautiful dog, but alas he was never shown or bred, so perhaps it was meant to be that there should be a "second" to carry on the name to future generations.
This Manuka had some nice wins as a puppy in the Fall of 2002. At his first show, at 6 months he won Best Puppy at an IWCC Booster at Carp Ontario. At 7 months of age he won his 6 to 9 month puppy dog class at the IWADV Specialty in early October under breeder / judge Deborah Tebbutt, who described him as a " Quality puppy, with a gorgeous, well proportioned head, dark eye, good bite and great whiskers. He's raw but I really like his long upper arm balanced with long hindquarters, and a sweeping tail. Underline good, but a shade flat in topline at the moment. Excellent reach on the move".
In 2003 at just turned 18 months he placed second in his Bred by Exhibitor Dog class at the IWCC National Specialty under breeder/judge Dr. Lynn Simon, and had some nice wins including a Group placement at All breed shows bringing him to within 2 points of his Canadian title. In 2004 he finished with another Group Placement, pictured above. His most recent and perhaps most significant show ring success to date was winning the Bred by Exhibitor Dog class at the IWADV Specialty In Morgantown PA, October 2004, under breeder / judge Ika Peiler. I don't have his critique yet, but several long time fellow breeder/ exhibitors were most excited about Manuka, telling me he was " the best male of mine they had seen yet". Such enthusiastic words from ones peers are great to hear. It is encouraging to be reassured your breeding program is on the right track. This is what Specialties are all about, in my opinion.
Manuka has already sired some most promising puppies, including Aotearoa Emrys Chadwick (Chad) featured on his dam Mati's page, a younger full brother Aotearoa Emrys Meriadoc born 22 June 04, and my lovely Aotearoa Kui's Kotiro ( Kui's girl) born 12 December 03 who is so very special.
Barbara Daley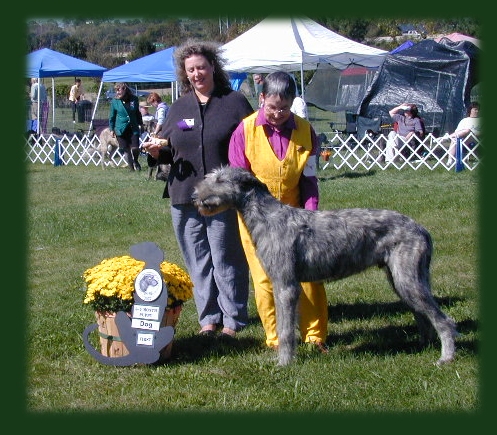 Manuka at 7 months

Manuka at 6 months

First BBE dogs, IWADV 04