BISS Multi BIS USA & CDN. Ch. Aotearoa Lee Ridge Tote
born 27 November, 2006 - pictured at 8 months
Sire:- Ch. Aotearoa Manuka 2nd Dam:- Aotearoa Suro Mangu Keely
owner/handler:- Barbara Daley Breeder:- Josie Lee
This exciting Manuka son made his show ring debut with a flourish at the IWANE Specialty in Warwick, RI USA 29 July 2007, winning both 6 to 9 month puppy male classes, Sweeps and Regular, and on to Reserve Winners Dog."His flawless movement gave him the edge" said breeder.judge Jette Holm Jensen from Denmark, over his half brothers, also Manuka sons, 6 month old Aotearoa Oldline Freehold Moa who placed second in the regular 6 to 9 month puppy class, Can Ch, Royeljoker's Tiger on the Loose, who won the Open male class and Best Head at this show, and an All Breed Best in Show winner in Canada, and 50+ other mostly adult male IWs. I am very grateful to Alan MacLeod for handling Salt in the classes while I stayed with "baby" Moa. For Winners Dog I had take over with Salt and I had a hard time keeping up with him. See the 2 movement photos below.
Throughout the remainder of 2007 Salt continued to impress judges in both Canada and the USA at IW Specialties and All Breed shows. While still a junior puppy he took his first 3 Championship points going Best of Breed, Best of Winners, and Best Puppy over an entry of 8 mostly adults including a Champion, under Sighthound specialist Pamela Bruce. One week later, at just 9 months he took the same wins again at the Capital Area Sighthound Association Specialty over a similar entry under Scottish Deerhound fancier Sandra Anderson, pictured below.

At the IWCC National Specialty in Kingsville , Ontario, September 15, 2007 Salt was first in both his 9 to 12 month puppy classes, Sweepstakes under Rosemary Shoreman, and Regular Class under breeder/judge Ulli Peiler, "Knocknarea", Ireland, who described Salt thus:-
"A tall puppy, with a beautiful head. Long, strong, elegantly arched neck flows into a good topline. Long, well rounded croup. Extra long first , and long second thigh. Good forechest for age. Well laid back shoulder, upper arm could be a little longer. With time his chest should drop and he should develop some spring of rib. He moves with a lot of drive and reach." See 2007 IWCC National photos below.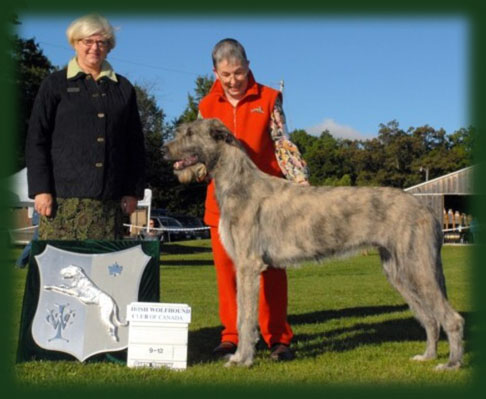 At the IWAGS Specialty in Ringwood NJ, USA October 28, 2007 Salt placed first in his 9 to 12 month Sweepstakes class under breeder/judge Jamie Souza Bartlett, "Limerick" USA who described him thus:-
"A handsome, upstanding dog with leg to spare. With all that height, and being at an awkward age, he was still organized on his come and go, and his side movement while not benefiting from weight to pull it to the ground was light and effortless. Lovely, long neck, beautiful typical lines with a beautiful topline and croup. I will be interested to see this dog in 2 years, as he has the makings of a lovely adult male."
In his Regular Class at this show Salt placed second in a close contest with the winner under breeder/judge Jean MacDonald Ulliot, "Hibeck", England who described him thus:-
"A tall boy, in good condition standing well on great limbs, correctly balanced length of body to wonderful leg length. Masculine head, soft, gentle expression, good bite, strong underjaw, great pigment, a lovely arched neck set into correct shoulder and return of upper arm, super forehand. Not as positive on the move as first, but still ran first close. Another with a bright future." Sweepstakes photo below.
I am looking forward to the 2008 show season with this wonderful boy. Stay tuned for updates