BIS Can.Ch. Powerscourt Aotearoa Hina
Sire:- Am.Ch. High and Mighty of Carrickmines
Dam:- Am.Ch. Cromlech of Eaglescrag
While visiting Powerscourt Kennels to breed Dubs to High I fell in love with the Power's latest import from England, Am. Ch. Cromlech of Eaglescrag. I thought her the most beautiful Irish Wolfhound I had ever seen. When she had a litter sired by High I was lucky enough to be allowed first choice of the 3 girls, as they were keeping a male.
Hina was so different from the reserved and gentle Dubs. She was bold as brass,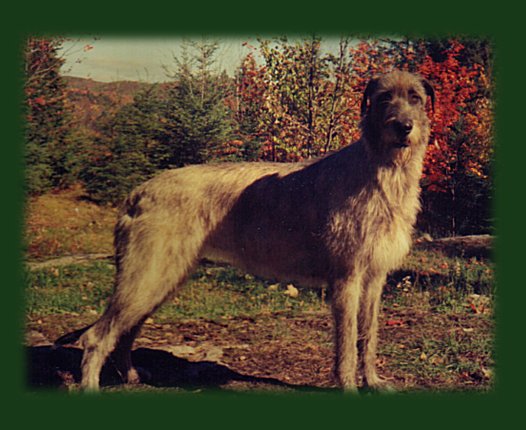 a born showgirl! With her outgoing attitude and beautiful confirmation we had a ball! She finished easily with group placements, and won Best of Opposite Sex at out IWCC Specialty in 1976. In April 1977 she won an All Breed Best in Show, and was #2 IW ( #1 bitch) in Canada that year. Her litter
brother Am.Ch. Powerscourt Shanahan was also an All Breed Best in Show Winner in the USA, and won an IWCA Specialty also. Hina won the Veteran bitch class at the 1981 IWCA Specialty under Mary Jane Ellis, and at 9 &1/2 years of age she won the Hound Group at a Special All Breed Show for Veterans only.
Hina was successfully bred 3 times, to different, proven males, but alas she never did conceive. Again, with this second crushing disappointment I leaned many lessons that have served me well. Although she left no progeny behind Hina made her contribution to future AOTEAROA Irish Wolfhounds by giving me such a splendid example of what an Irish Wolfhound should be. She was my inspiration to continue.
Barbara Daley