photo by Heather Levac
MULTI BBPIS GCH. AOTEAROA MATAATI "TAMA" O TOTE
Born 15 November 2012 – pictured above at 3.5 months
Sire: BISS Multi BIS CAN. & AM. CH. Aotearoa Lee Ridge Tote (Salt) Ora Dam: CH. Aotearoa Whakamaru (Sibyl)
Breeder/Owner: Barbara N Daley
Tama is the first and only son of my magnificent Salt, hence his name which means in Maori "first son of Salt". The only male in a litter of 5 he HAD to stay, but never in my wildest dreams did I expect the amazing success in the show ring that came in his first year. In Canada we now have a baby puppy class, 3 to 6 months, with awards for Best Baby Puppy at Best in Breed, Group, and Show level, but they do not compete for Championship points until after 6 months of age when they move up to the regular puppy classes. Tama's first two shows at just turned 3 months were Ottawa Kennel Club Sanction matches, where he not only took Best of Breed over older puppies and adults but first in the Hound Group over older puppies under IW breeder judges Susan Prokopenko and Kathie Upton.
At his first Championship shows at the Champlain KC in Petawawa Ontario Tama took Best Baby Puppy in Breed and Group all 3 days, and 2 days out of 3 BEST BABY PUPPY IN SHOW!!! More Best Baby Puppy in Breed and Group followed, with comments from some judges he would have taken the breed over adults present if he had been over 6 months. After he turned 6 months he did just that many times to finish his Championship before 10 months of age. With 7 Best Puppy in Group awards and several adult Group placements also from the puppy classes Tama finished his first year as #1 Irish Wolfhound puppy in Canada for 2013 and #16 in the adult TOP DOG placements. But Tama's most rewarding triumph of all for me was at his final show of the year, the IWAGS Specialty in Matamoras, PA, USA where he won my own AOTEAROA trophy for Best Head und breeder/judge Els Swelheim-Kruisinga from the Netherlands, joining his many Best Head Class winning ancestors and relatives at Specialties both sides of the border over the past 30+ years.
Below are some photos of the highlights of Tama's spectacular first year in the show ring, expertly handled by Christine Pollen and occasionally Savannah Vince.
3rd BBPIS Arnpriors
1st JPD IWCC QC 2013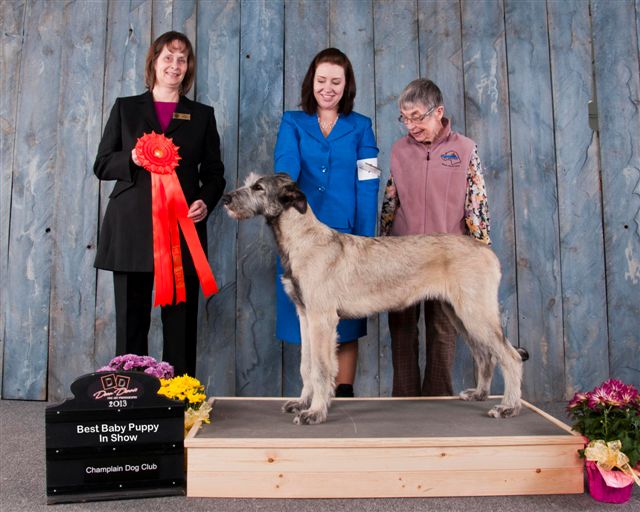 BBPIS #1s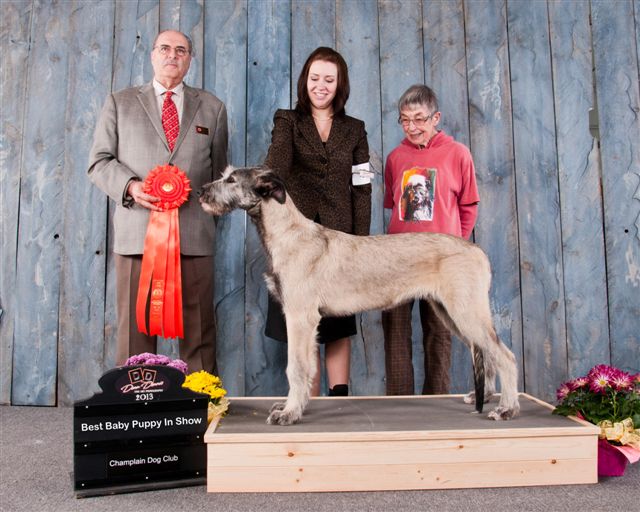 BBPIS Champlain Sundays
Best Head IWCC Qc 2013
BPIG Chateauguay 2013
BPIG Kars 2013
OKC SM 2013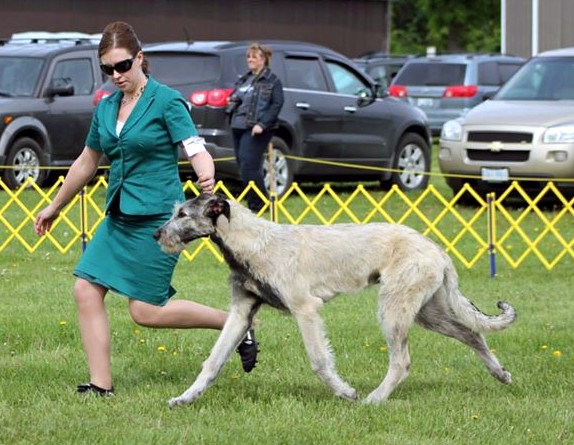 Move OKC Richmond 2013
OKC SM 2013