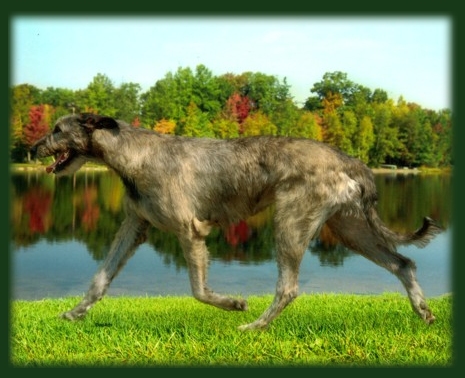 Ch. AOTEAROA TE NGARARA HUARAU
"Monster Girl" - at 22 months
3 November 2002
Sire:- Ch. Aotearoa Mangu Mumu Dam:- Ch. Locksley's Wild Chelsey
Bred, owned, and handled by Barbara Daley
Some time ago I received a very interesting and attractive stamp from home depicting a mythical giant first lizard, Te Ngarara Huarau. I thought what a wonderful name that would be for a very special Irish Wolfhound, so I saved it in a silver frame, waiting for the right hound to come along.
When Chelsey's litter of 6 was born I knew right away "SHE" had arrived! From birth my "Monster Girl" was much bigger than her littermates of both sexes, who were by no means small. I just HAD to keep her. There was no doubt she was the one I had been waiting for. By 11 days of age she even had the lizard's mouth!
I was a bit concerned that being so big and powerful she might be a bit masculine, but I need not have worried, she is every inch a lady.
At her first show at 6 months and 3 days she just made the 6 to 9 puppy bitch class of 34 at the 2003 IWCA Specialty, and placed 4th to 3 much more mature puppies closer to 9 months. Judge Goran Bodegard commented on her......"Excellent topline and proportions. Very good head, eyes, and ears.
Moves very well, astonishingly sound for her level of maturity and very feminine. Charming and full of quality".
Now at just 2 years of age she is starting to hit her stride. The exciting action picture above was recently featured as a spectacular wrap around cover, front and back, of the Winter 2004-2005 issue of the Irish Wolfhound Quarterly. A big "Thank You" to IWQ Editor Cindy Kerstiens, and Chris & Tom Halvorson of DogAds Photography.
Stay tuned, and visit her page often. I have a strong feeling the best is yet to come for my beautiful "Monster Girl".
Barbara Daley