Mati's First Five Points
Mati's Dam Mercedes
Mati's Grand Dam Ellie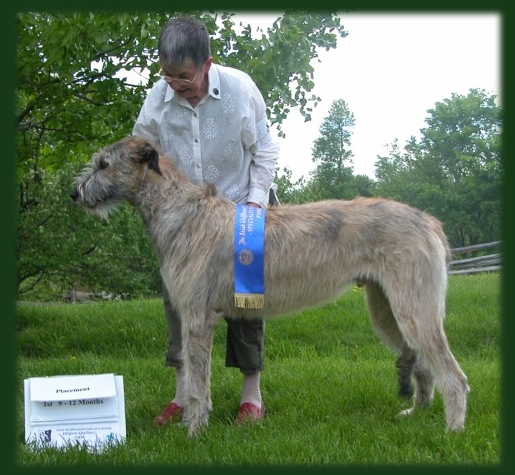 AOTEAROA EMRYS CHADWICK "Chad" at 9 months, Mati's son sired by Can.Ch. Aotearoa Manuka 2nd
First Senior Puppy Dogs, regular and sweepstakes classes. IWCC Quebec Regional Specialty May 29, 2004
Judges' critiques: "Lovely wheaten brindle of 9 months old, with a pleasing head and expression, nicely folded ears, good forechest, lovely outline and curvy rear. Correct rise over loin, moved out and used all he had while moving round the ring." Puppy Sweepstakes breeder / judge Emma Ross.
"Light brindle 9 months old, lovely head with hardly any stop and a nice rose ear. Good length to height ratio, long ribcage with correct tuck-up. Strong rear, hocks well let down. Good confirmation resulting in correct movement."
Specialty breeder / judge Ika Peiler.
Chad's Head from a different angle
Mati winning the AOTEAROA Trophy for Best Head under Emma Ross. I think Chad would have given her a run for it if I'd had him entered.
A real thrill to win my own trophy, which I offer at both the IWCC National and Quebec Regional Specialties to emphasize the importance of typical heads
as a distinguishing feature of the breed. Also most rewarding to be able to be able to prove I can practice what I preach.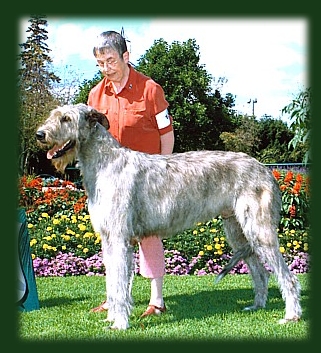 Can. Ch. Aotearoa Manuka 2nd at 18 months, Chad's sire.